Event's
You can donate by using my VENMO or CASH APP below.  Just scan the code on your  phone and it will take you there. If you have an Iphone, just ask Siri to scan a QR code and you scanner will pop up.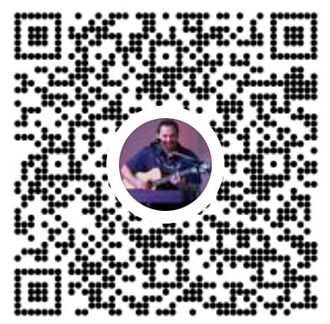 You can also donate to this event by using Facebook messenger at www.facebook.com/jongibsonfriends 
NEWSFLASH - You're donations are making a difference and getting things done!  Thank you all so much!
Hello JG Club and Street Team members, blessings from my music room. I'll be live on Facebook every Sunday at 6:00 PM PST playing music.  The purpose of these FB Live performances will be to raise funds for recording new music.  Now, as some of you know, I have the technology and minimal gear to accomplish this through digital technology.  The problem with this is that by the time I arrive at the point where the song resembles what is in my head, the passion for the song is pretty much gone. And at that point, I'm just an empty shell, robotically putting the finishing touches on a track that merely resembles the song.  Can you imagine having to witness to people about Christ in this manner?  Unfortunately, we see it every day in the body of Christ. It will sound good, seems to make sense, but when we really examine it, we find that it carries little  or no anointing. To be frank, I'M OVER IT!  Two weeks ago, I decided that from now on, I will record music in a studio with live players, fresh and spontaneous, no click tracks or sequential interference, keeping the passion level at 100.  
se·quen·tial /səˈkwen(t)SHəl/ - adjective: forming or following in a logical order or sequence. 
"a series of sequential steps"   
I believe that where there is passion, there is heat and where there is heat, there is the Spirit of God.  However, recording in this manner means involving other musicians and engineers which translates into dollars.  Now, although I know that I will be able to do it at a much lower cost than usual, such costs remain beyond my grasp. Without the financial support of those who believe that the music God has given to me is important to us and the world, it can not be accomplished.  So If you are able to tune in every Sunday night at 6:00 PM PST you can enjoy the concert.  If you are led to contribute to the recording fund, you have several options here on the Events page to contribute.  Thank you so much and may God bless you and keep you. 
Love,  
Jon Robert Gibson